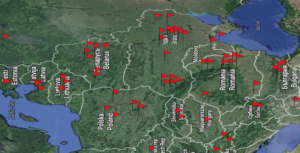 Since the pandemic : nearshore IT service providers have become increasingly popular amongst Western clients.
For good reasons: many organisations have experienced that remotely working teams perform well.
Old fashioned emotions like "I want to have my staff in the same building" have lost their momentum. When organisations have experienced that people working in another city are properly functioning, why would another country be a problem?
Due to the same pandemic, many organisations feel the need cost reductions, while the requirements for well working IT infrastructures, software, security, data management and compliancy have become more important than ever.
Since skilled IT staff in offshore and nearshore countries have a better availability and lower cost than in the West, it's no surprise that revenues of IT companies in those countries are increasing.
Apart from buying services from nearshore IT companies, you may establish your own nearshore delivery unit. Since most western clients are unfamiliar with local legislation, local labour market and culture, this is a tough route.
An easier way is buying an existing company – for instance in Eastern Europe.
This appeared to be attractive for IT companies in Western Europe, who like grow their business and margins.
Also IT end-users employing 20 or more IT staff have concluded that a remote IT department may have many advantages both from the financial and quality perspective.
Additionally, financial investors looking for high yield in growing industry sectors, have found out that Eastern European IT companies are profitable investments.
How do you to find the right objects to buy?
How to assess the management and staff and the local culture, work processes, delivery quality, attrition rate, recruitment capacity and reputation amongst clients and labour market? Questions that need to be answered before a financial due diligence will make sense.
Since many years Baker Boucher is specialist in nearshore IT companies.
We know hundreds of IT companies in a variety of Eastern European countries, with a variety of sizes, histories, strategies and specialisations. We have visited and assessed many of them also we have an up to date network.
Would you like to acquire an Eastern European IT company?
Let Baker Boucher guide you.
Please e-mail to menzo.de.muinck.keizer@bakerboucher.com for more information. Baker Boucher Nederland, Office: Leeghwaterstraat 3, 2811 DT Reeuwijk, The Netherlands